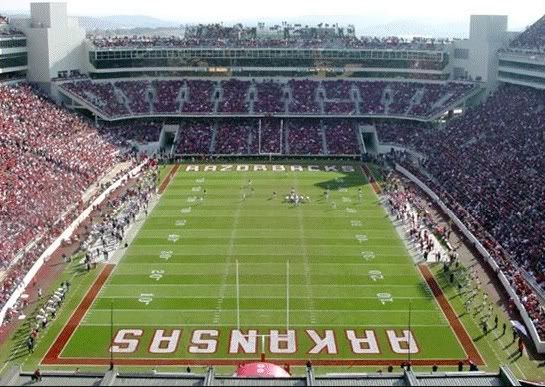 Well, almost everybody. Gus Malzahn did not look too happy when walking off of the field. A little boy waiting for an autograph was completely ignored. That same little boy who was ignored by a Golden Hurricane clad Coach Malzahn just a short time ago. The kid adores you, Malzahn; please just give him an autograph. Yeah, it might get you surrounded by hounds in a hurry, but if you're quick about it, you can afford the fifteen seconds of your life that will mean a lifetime to him. Surely you remember him: he's one of the kids that went to your games at Shiloh Christian and your beloved Springdale High.... or perhaps you have forgotten,... Genius.
But the Razorback fans, now they looked happy. And they sounded happy. Even a man we call Bobby sounded happy. It was a great day inside of Donald W. Reynold's, as well as for those huddled around their televisions and radios. Despite a scary moment or two with the number eleven reaching into the pits of our stomachs and grabbing old memories, the joy and smiles never seemed to leave the faces of the cardinal clad multitude.
Auburn fans, we hope that your trip up here and back was a pleasant one, but we did enjoy sending you back with a sour feeling. The loss of your undefeated season had to be bitter, especially in what started out to be a blowout fashion, but at least this way you might be one step closer to losing your new coach (what is his name again?) and getting Great Gus to be the head snob.... er, coach. And thanks for being the most polite fans in the SEC as you always are. Perhaps Tebow and his followers could use a few lessons from you War Eagles. Tigers. Whichever.
Thanks HOGS for playing like we knew that you can and will. Florida lies in wait after their showdown with LSU which was more boring than the Ten Dollar Show at the Hughes Brothers' Theater in Branson. At least the material is new. Hey CBS, maybe you could show some clips of Tebow picking lint out of his toes this week; we are pretty sure that outside of the post game shower, that is the only video clip that you did not collage for us. Thanks for that. Oh wait, we got off track for a second.
Thanks again, HOGS for making us all laugh, smile, and have an enjoyable time. It was great to walk outside of the stadium and not have to hear the chants of the other team's fans all the way back to whatever altitude we parked at Saturday. Go get the Gators.
Go HOGS!!!
ARKANSAS RAZORBACKS