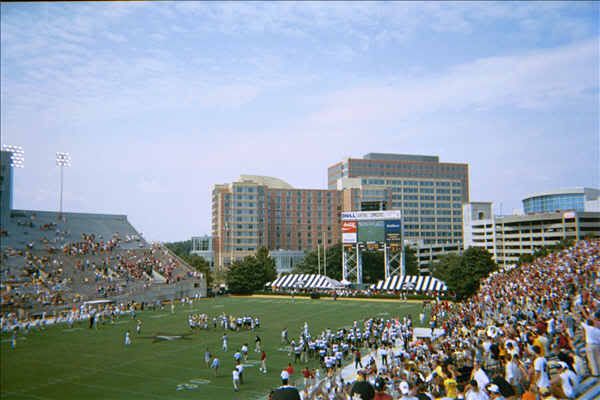 "Hey, where's everybody going?"
Before we boast yet again on one of our pathetic attempts to foresee the outcome of the Nation's football powerhouse conference, we must unofficially welcome in our latest contributor to The Big Red Board.com. JCK, welcome to what we 'overhypingly' around here call "The Big Show."
If you readers have not had a chance to read some of JCK's work we invite you to read the entry directly below this one (if you click onto our home page). You can also just click on the article here: Ark vs UC-Davis-Running Diary
.
We think that you will find it to be entertaining while manufacturing a smile upon your face.

Now, on to the part that my mother claims to read.
Week Twelve's positive side was the improvement on our season record to 65 - 19 (.773) after going 6 - 0. Last week's negative was the damage to our season points-per-game total moving to 13.4 after a high-scoring performance by the SEC's dominant Florida and happy-go-lucky Mississippi, resulting in a tie with Week One for this season's worst at 19.7 ppg.
Let's talk some Week Thirteen, shall we?
All games are November 22nd:
Arkansas at Mississippi State (1:30 p.m. CT) - You have heard of "David vs. Goliath?" This is more like the SEC's version of "Tiny Tim vs. Barney Rubble;" neither would probably hurt a fly, but given the right provocation, one (Barney) could step up and hurt you. [This may very well have taken First Place on the mantle of bad analogies] The Hogs still have a chance of becoming bowl eligible and Mississippi State is the first of two steps (the only two steps left) in accomplishing that goal. Since Mississippi State has no bowl hopes it is not a must win for the Bulldogs, however they do enjoy beating the Razorbacks and a victory in Starkville would be a great send-off for their Seniors. Arkansas will give MSU some things to build on for the Iron Bowl but it will be a moral victory at best. Hogs by 17.
The Citadel at Florida (1:30 p.m. ET) - Okay, do we really need to discuss this one? We had an inter-office argument on whether or not this game should even be mentioned. Unfortunately, only one of us gets stuck writing about it... or would that be a fortunate thing. Quick synopsis: Tebow is way behind in the Heisman polls; Myer needs to pad his stats to get him back to the level of padding that he had the previous two years. A level that even the High School Homecoming Queen would envy. Urban and the Gators are successful at that winning by 60 before calling off the dogs.
Ole Miss at LSU (2:30 p.m. CT / CBS) - Not too many options for this week's 'The Big Red Board's SEC Game of the Week,' but the Rebels at the Tigers looks to be an interesting matchup nonetheless. Houston Nutt's talent seems to be playing better as the season rolls along while LSU is right about where many expected them to be. 6 - 4 overall at 7 -3; Death Valley could definitely be the difference maker in this game, but the fact remains that Nutt will use the Razorbacks' victory last year in Baton Rouge as motivation towards and evidence for a possible victory in the rabid tiger den. Miles needs to put a victory together here, and the Tigers need to convince one of the top recruiting bases in the Country to stay home. It will be a struggle to do so, but the Bayou Bengals will hold serve at their house by 10.
Tennessee at Vanderbilt (11:30 a.m. CT / Raycom) - Oh, Vanderbilt, how boastful art thou, Vanderbilt? Tennessee Volunteer Head Coach Phil Fulmer has given you more 'L's' than the masonry company that built your beloved Buttrick Hall. [Where do these sorry analogies keep coming from today?] But alas, Tennessee is finally down while Vanderbilt is up. Fulmer is going to need all of that six-million to help ease the pain of this payback. Commodores by 15.
Alabama is holding a press conference to explain why their mascot is the Tide but dresses as an elephant. Auburn sends them a letter of support saying that it is a state thing on a piece of paper signed "War Eagle." Georgia had to let Uga off this weekend for mating season (word is that there were only fifteen of him left). Kentucky originally had a game scheduled but the basketball team decided to scrimmage the School for the Blind; you can do the math. South Carolina heard that all of Myrtle Beach's remaining 1992 stock of tied dyed t-shirts is 50% off and decided to beat the holiday week rush. Five visors for fifteen bucks is hard to beat, Steve.
Arkansas Razorbacks <----- Search Engine purposes.