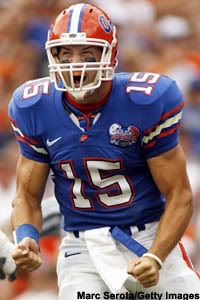 Week Six is history and The Big Red Board is ready to forecast Week 7 after finishing a perfect 5 - 0 last week with an 8.4 points per game differential adding to a season-long running total of 38 - 10 and 13.0 ppg.

This week has tougher games so the challenge is better, but the real question is whether or not the SEC Officiating will be better. It's been sub par this season and a couple of quarterbacks have benefited from it greatly.

Tim Tebow (who is an outstanding talent regardless) was aided by two blown no-calls early in the game against Arkansas. One, where a lineman stuck his hand in the jersey of a defensive Razorback drawing in to make a safety on the unsuspecting Tebow. And the other, Florida's first offensive play from scrimmage in which Tebow made an illegal forward pass past the line of scrimmage and 10 feet directly in front of the official's face which drew no penalty.

But we, as a Razorback site, digress and stop our pointless venting.

On with the games:

All games are Oct. 11

Arkansas at Auburn (4 p.m. CT / PPV) - Tiger fans say goodbye to Tony Franklin and hello to Kodi Burns. Razorbacks say goodbye to "Murder's Row" and say hello to some relief on the schedule. Tuberville say hello to Tennessee boosters. And Petrino say hello to your first SEC victory. Hogs by 3.

LSU at Florida (8 p.m. ET / CBS) - At the beginning of the season this looked like a completely different matchup - LSU had questions at quarterback and Florida was predicted to play second fiddle to Georgia in the East. The quarterback issue may or may not be solved for LSU, and Florida is beatable in the Swamp putting them right in the band's second chair, only it's surprising Vanderbilt leading the way. Titles are at stake and Florida finds a way to stay close to the chase beating the Tigers by 10.

Tennessee at Georgia (3:30 p.m. ET / CBS) - People that bought tickets at the start of this season for this game are probably going to be disappointed. Tennessee is way down, struggling to beat a Northern Illinois team last week. We like to tease Fulmer about his hot seat, but this seat now looks like a college frat party prank gone awry. Richt and his Bulldogs pour Grade 24 kerosene on Phil's posterior.

South Carolina at Kentucky (12:30 p.m. / Raycom) - 1-2 at 0-1. These two Eastern Division teams are not normally considered power teams, but the equality of the matchup will make it worth watching. Spurrier needs to make this season a success to prove that it was his coaching and not the lure of athletes to Florida that made him successful. Kentucky needs a win in the West. The Wildcats will get what they need this week by 11.

Vanderbilt at Mississippi State (1:30 p.m. CT) - Holy cow look at Vandy now! That's the way to play Commodores. Mississippi State won't be a pushover and they won't be intimidated by Vanderbilt's record. They should be though. Croom's boys will struggle all day with a vamped up group of scholars. Bobby Johnson's boys show the Bulldogs what an institute of learning is all about on the football field with an 18 point victory.

Alabama is catching two for one night down at the Redneck Riviera, and Ole Miss is hosting both a texting seminar and a "Welcome All Y'all Florida High School Recruits" pep rally.

Feel free to comment or ridicule me here or e-mail me at haydenhodges34@gmail.com .