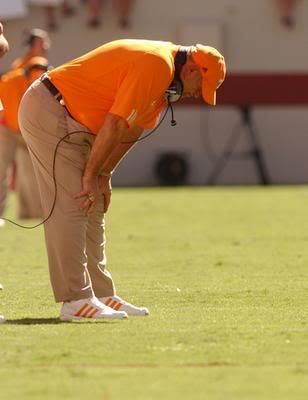 Time to eat my crow first. In week one we predicted that the SEC would come out with a 10 - 2 record. While we were off by two victories (8 - 4), it was the amount of points that we were off by that tarnishes the final outcome. After figuring in how much we had the winner winning by, we took the actual margin of victory and tallied up the difference. For example, we had Auburn beating Louisiana - Monroe by 28. The final score was Auburn 34, ULM 0; a 34 point victory. 34 minus 28 is 6, so that is six points that counted against us. Kentucky beating Louisville by 25 after we picked the Cardinals by 3 equals a 28 point deficit against us. However it was our beloved Hogs struggling to beat Western Illinois and our "out on the limb" embarrassing pick of Mississippi State beating Louisiana Tech that cost us big with a 30 point and 43 point respectively addition to our negative total: a whopping 236 points averaging 19.67 a game.
Tough
Week One
, but if you're still interested, here's the picks for Week Two:
Sept. 4

South Carolina at Vanderbilt - Both teams look to fair better in Week One than anticipated. South Carolina has hopes and expectation to compete for the SEC Eastern Division Title. The Gamecocks will keep both of those going as they defeat feisty Vanderbilt by 14.

Sept. 6
Tulane at Alabama - With what the Tide showed us in Atlanta last week over a good Clemson team, this home "battle" should be no contest. Bama is too well-coached and too talented to even think about slipping up in this one. The Tide suck under the Green Wave by 32.
Louisiana - Monroe at Arkansas - There was a lesson to be learned last week by the Hogs. Hopefully that lesson doesn't consist of 11 chapters of not being very good. Instead, a tutorial of adjusting to a new scheme and philosophy with a good number of Freshman in the class is what all Hog proponents hope was accomplished. More lessons are learned this Saturday but the Razorbacks will receive a passing grade by 18.
Southern Miss at Auburn - Southern Miss didn't look too bad against scrappy Louisiana - Lafayette last weekend, but Auburn didn't look bad against Louisiana - Monroe either. The state of Mississippi hopes to have a team beat an SEC school from Alabama this year, but it won't be accomplished against Tommy's offense and defense on this day. Tigers by 34.
Miami, Florida at Florida - Yes, welcome to College Football. An in-state rivalry is just what the second week needed. Players that hate each other, fans that want bragging rights, and a nation that just wants to watch a high-spirited, competitive battle where it doesn't matter to them who wins. In the past, this was a hard contest to accurately guess the outcome; this year's not so tough: Florida by 17.
Central Michigan at Georgia - Central Michigan did better against Eastern Illinois that Arkansas did against Western Illinois. Doesn't matter, none would "ill annoy" Georgia. The Bulldogs heal their bodies as Central Michigan makes a long trip to pick up a check. Georgia by 34.
Norfolk State at Kentucky - Bonus points for anyone that can tell us Norfolk State's mascot without looking for it. Kentucky served us a decent portion of that aforementioned crow last week looking stronger against Louisville than expected. Rich Brooks might have another good team on his hands after all. We won't find out exactly how good this week though as the Wildcats serve Norfolk State a whipping by 42.
Ole Miss at Wake Forest - Who is tougher, a Demon Deacon or a Rebel? Judging by the mayflies in Mississippi one would have to say that Mississippi natives are pretty stout and strong-willed, and Ole Miss is riding a new wave of hope and momentum. The Rebels will attempt to swat Wake Forest like their state pest but the Demon Deacons...you know what, the Demon Deacons do not do anything. Ole Miss by 7.
Southeastern Louisiana at Mississippi State - How many schools does Louisiana have? And how many of them besides the Tigers are on the SEC schedules. These "rent-a-wins" have been biting some SEC schools in the tail lately; this Saturday might provide another sore posterior for the Bulldogs. Hopefully MSU doesn't give more credence to the message board masses that ridiculed (and rightfully so) our faith in Crooms' boys again. MSU by 10.
Troy at LSU - According to media reports Gustav did not do too much damage to the good people of Louisiana. While our prayers are with the people of the Cajun State there is football to be played; hopefully weather will allow it. The Trojans still need to bring their shields and armoured helmets because even a "Homer" wouldn't pick them. Tigers by 36, and that's if Miles lets up.
[Note: LSU has announced that due to Hurricane Gustav their game vs. Troy will be postponed until what is expected to be a November game date.]
Tennessee has a preliminary hearing to attend and will be available to say "No comment."